Hello BRIGHT Supporters!
We are wrapping up our weekend here in Lima, and wanted to take a few moments to let you know what we've been up to down here in the southern hemisphere. Our plane landed safely around 6am yesterday (Saturday), and after a leisurely breakfast, we went straight to Padre Martinhos. The therapists were able to sort their donations, meet the children, and begin some work! Majesca did some one-on-one music therapy with a few of the boys, while Trisha got to know the little ones. Jenny, our physical therapist, put together a hoyer lift, put together a child's stander, AND got everyone measured for AFO's (What a rockstar!). Melissa observed how the feedings were implemented, calculated the children's weights and heights to plan a feeding regimen (and took the amazing pictures below). Amy began working with a little boy named Sebastian on basic academic concepts, like letter identification and object labeling. Sunday is a day of rest for the children at Padre Martinhos, and since they don't allow visitors, we were able to experience Lima. After shopping at the local market, we had lunch oceanside. We then embarked on a three hour bus tour of Lima, Peru. We saw different parts of the city, and was able to tour the cathedral of San Francisco (and their catacombs).
We saw embassies, the presidential palace, parks, and more.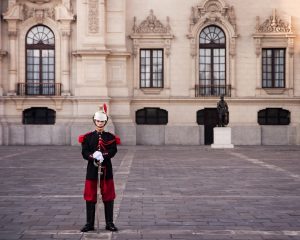 Dinner was on the go, as we had to get to a 7:30 church service. The service resembled a denominational "mega church" with about 3000 people, a very loud (and awesome) worship band, and a message (translated into ear buds for us English-speakers). We are now back at the hotel, ready to rest up for a week of therapy! Please check back in tomorrow to see what we were able to accomplish! *Good night*