Today was a "go go go" day and we hit the ground running. The orphanage had the BRIGHT therapists teamed with their therapists and had a list of children they were hoping to have assessed. The therapists ran anywhere between 2 to 5 assessments in the morning and 2-6 assessments in the afternoon.
Kimberly and Jenny had tias, therapists, and office staff in the pool this morning for training, along with two children. Kimberly got 3 kids in the water in the afternoon, including two young men with Down syndrome. Her favorite moment of the day was watching one of the young men explore the water and get his sensory needs met.
Melissa co-treated and consulted with the resident SLP, provided training to the tia's and to the SLP on how to feed a young man who aspirates on his food often. This was the most positive parts of the day for her.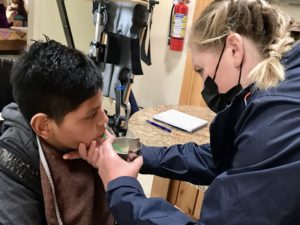 Our PT's spent their day with the resident PT and staff to teach them about elevating and changing their hospital beds, improving comfort and positioning for children with more advanced medical conditions. Suzie and Jenny were very happy to help train the tias on wheelchair transfers, gait, and standing with proper mechanics.
Amy and Bessie spent the day with one of the orphanage's psychologists running one-on-one music therapy, and one baby group. They felt very fulfilled to know that their therapy was well received and "mind blowing" (the psychologist's words- not ours!). Their highlight was greatly increasing the attention span of a little guy with Autism. Oh, and holding the one month old baby.
It was a long day, but the team stopped quickly by the mall to buy needed supplies. A whole team highlight was arriving "home" to homemade (even the noodles) lasagna. The owner of the house in which we are staying is married to a woman from Italy, and it was her grandmother's recipe. What a great way to end an exhausting day.