We said "Adios" to the children living in Quito this morning and drove a few hours to Latacunga. We made a quick stop for a photo op where the team found some workout equipment overlooking southern Quito. We took advantage of that!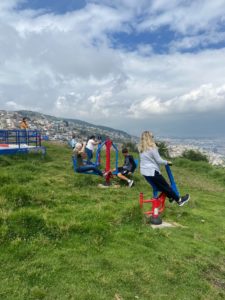 Once we arrived in Latacunga, we got to settle into our rooms and have a picnic lunch in the home's beautiful garden!
Driving to the orphanage takes about 20 minutes. Upon arrival, we were greeted by Seymour the llama.
The team was given a tour, had a meet and greet with the therapists, and then had a sweet "welcome" song presentation from the kids here in Latacunga. We shared a song for them to enjoy and then BRIGHT's therapist's split up and met with For His Children's therapists to make a plan for tomorrow.
Donations were sorted, and assembled and we are ready to for our time with the kids tomorrow!