Well, the end has come. What a whirlwind of a trip. Today was our final day with the kids and we've parted ways with our host and new friends at the therapy center. The morning started off with each therapist modeling improvements in therapy stations for the team members, while Jenny worked with Alfa, a home hospital kid with Cerebral Palsy that was brought in specifically to see the PT. Amy showed the team how to incorporate a parachute into circle time and nearly all of the kids loved it.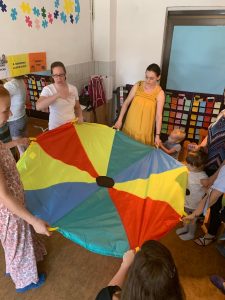 Ronit ran a fine motor station today with play-doh, which the kids loved.
Katie supervised the PECS station, Jenny spent time talking with a mom about her son's physical impairments, and Ediba translated so many documents for us from English to Bosnian.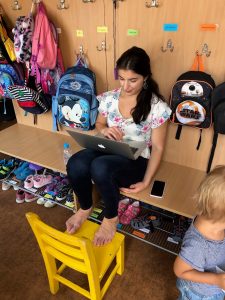 It also happens to be Ediba's birthday! We celebrated with cake at lunch, dinner at a local brewery, and more cake afterwards. We are thankful she spent her special day work extremely hard for BRIGHT Children International. We did some last minute training and passing off of supplies before taking a deep breath of completion. Ronit and Gali have left for Israel, Amy is flying home in the morning to see her family, and Katie and Jenny are heading to Croatia in the morning for a few days of sight seeing.