Tesoros De Dios is a school in Managua for children with various disabilities, from learning disabilities to severe Autism and Cerebral Palsy. The team is sitting here talking about the positives of the day. Highlights from the day: Pam, the PT, got two kids to walk with walkers we brought down that had never before walked. One was a three-year-old with Cerebral Palsy, who's mother's only desire was that her son could walk. We made that dream a reality! Thank goodness Lindsey faked a knee injury to get that walker on the plane!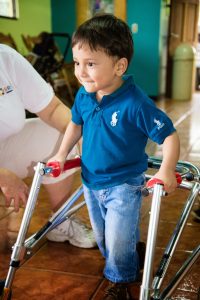 Our early intervention team of Angie and Trisha reiterate how awesome the above moment was. Trisha was entirely impressed with the early intervention director, commenting that she was incredible. There were only a few suggestions made and each one was accepted with enthusiasm. Angie was glad to be able to lend a listening ear to the parents who needed to tell their stories about being a parent of a child with special needs. Amy put on her Education Specialist hat today, leaving Bessie to do music solo. Amy saw five pre-selected students to help create new educational goals and suggestions for the current special education teachers. She saw children that could really benefit from a reading specialist, but will do her best to provide some basic training on Thursday. Two students were needing updated goals, giving her some influence and direction for these children's education. Lorena loved that she was able to co-treat today. She was able to work with Bessie, the Music Therapist, and the student's teachers. This is because pulling kids for one-on-one assessments would be less beneficial than watching the children in their natural schedule. Lorena saw great implementation of various programs including PECS, visual schedules, and token boards. She also got to talk with a lot of the parents, which was inspirational. One parent was even part of a committee for children with Down Syndrome in Nicaragua who is pushing for more inclusion and academic based instruction for her son. Ronit, our Occupational Therapist, has many positive experiences from today. It was a blessing for her to have Lindsey, her own personal assistant who is interested in OT, helping her. Ronit was impressed with the two PT's on staff at Tesoros who were very educated, yet open to suggestions. A heartwarming experience for her included swinging with a boy with muscular dystrophy who had never before been on a swing.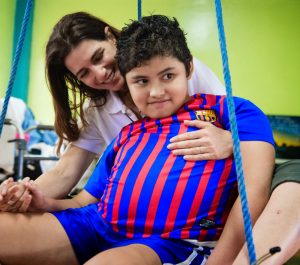 Last, but not least, Bessie the Music Therapist was tickled to have a child with Cerebral Palsy play her guitar with his feet, since those were much more controlled than his hands. When working with another child with Aspergers, Bessie was impressed to see his enthusiasm and discussion about her instruments and his ability to express and identify his feelings.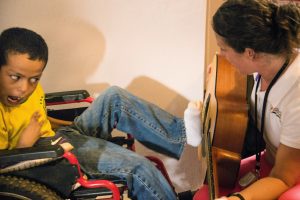 WE all love Cori, our is an amazing photographer, who made the above photos possible.