Ladies and Gents, that's a wrap; we've made it to the end of the week. Everyone is tired, but fulfilled, AND WET! We had a torrential downpour here for a couple hours, but luckily, everything is packed and dry. Kimberly trained Harvey on his water therapy skills, and he passed with flying colors. The rest of Kelly's House team spent the morning in the hospital, following up on their visit from Wednesday. Katie worked with the babies that have cleft lip and palate and their moms to optimize their feeding.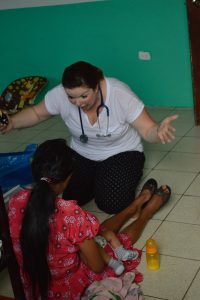 Bessie, Abby, Jordan, and Noelia did VBS at the hospital in the afternoon.
Noelia and Jordan finished their day at the Elderly home, where they visited and were able to listen to the residents stories. The Safe Haven team spent the afternoon is a variety of meetings, including meeting with the parents, the special education teacher, and the psychologist and director of the Village of Transformation. Donations were given out and explained, last minute details were wrapped up, and good-bye hugs were shared.
Isobelle, our photographer, gave a great gift to the mom's at the hospital today. She was able to take pictures of the mom's with their babies at the request of their parents in case their 'babies go to heaven.' What a beautiful thing!
What a week! We came with 64 bags of luggage and are coming home with 20. We have truly seen growth, healing, and transformation this week. We are leaving a piece of our hearts behind, and yet they are fuller than when we got here. We look forward to seeing you all state side! Signing off. <3 BRIGHT Children International.